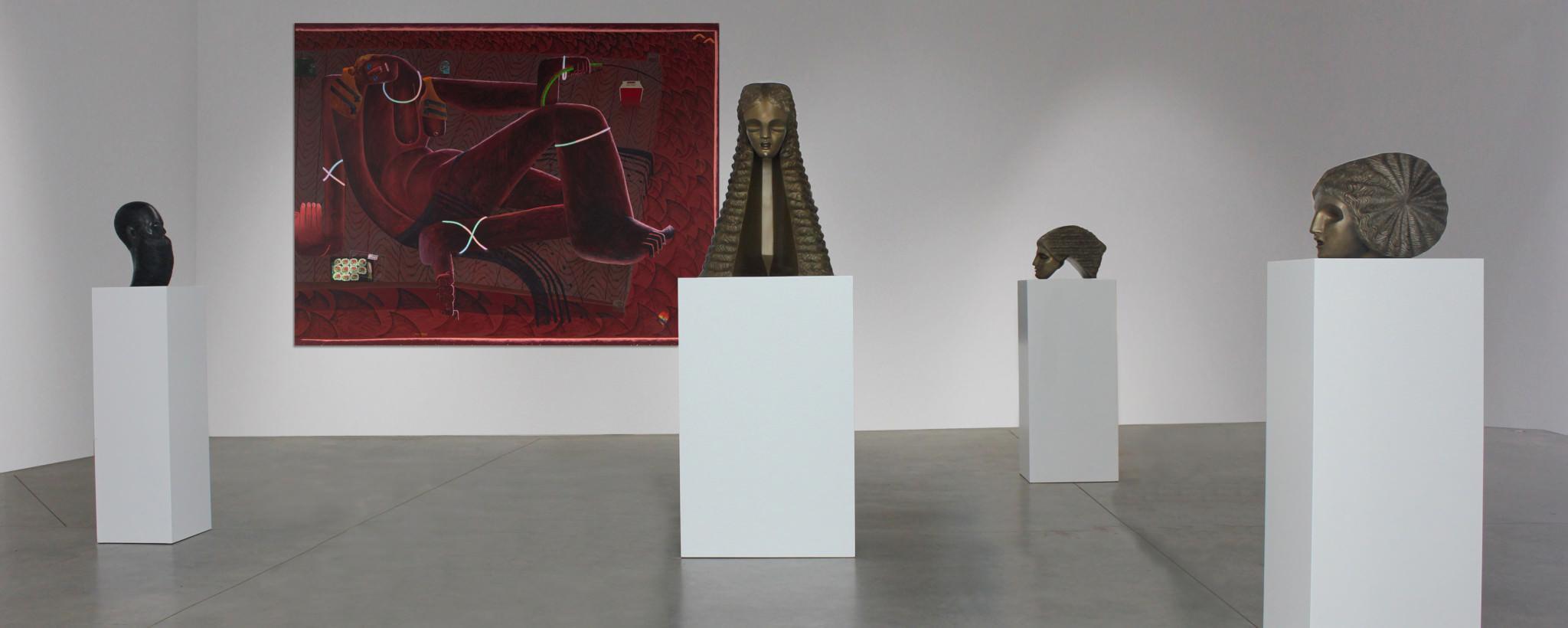 Zidoun-Bossuyt Gallery is pleased to present a duo exhibition exploring the dialogue and connection between the sculptor Sarah Peters and the painter Celeste Rapone. Four bronzes and two plasters by Sarah Peters will be shown alongside six paintings by Celeste Rapone.
Sarah Peters' work expands upon her exploration of formal sculptural languages and themes ranging from power and authority to psychology, gender, and humanity. Many of Rapone's paintings attest that she is in a kind of dialogue with sculpture. Her paintings are suffused with plasticity; all figures examine their bodily flexibility and exercise their ability to excessively stretch their arms and legs to the extent that their appearance looks supernatural.
Sarah Peters' sculptural language draws from diverse iconographic influences which include Assyrian antiquities, Greco-Roman tragedy masks, Egyptian funerary figures and Cypriotic portraits, as well as the work of Elie Nadelman, early American folk art, Constantin Brâncuși, and early modernist figuration. The smooth, eyeless sockets of Peters' heads prohibit an explicit or reciprocal gaze, asserting autonomous internality; the figures' ambiguous expressions simultaneously suggest a state of contemplation, ecstasy, or catatonic paralysis. Gaping mouths mirror those voids, while evoking a sonorous sensibility perpetuated by rhythmic, undulating hair.
Sarah Peters (b. 1973) lives and works in Queens, NY. Peters was educated at Virginia Commonwealth University (MFA), The University of Pennsylvania (BFA), and The Pennsylvania Academy of Fine Arts. She is a recipient of awards and residencies from John Michael Kohler, WI; New York Foundation for the Arts; The Fine Arts Work Center, Provincetown, MA; and The Marie Walsh Sharpe Art Foundation Space Program. Group exhibitions include Objects Like Us, The Aldrich Contemporary Art Museum, Ridgefield, CT, curated by Amy Smith-Stewart and David Adamo (2018); Galerie Eva Presenhuber, Zurich, Switzerland (2018); and Rodin and the Contemporary Figurative Tradition, Frederik Meijer Gardens & Sculpture Park, Grand Rapids, MI (2017), among others. Her work has been reviewed and featured in publications such as The New York Times, Art in America, Artforum, and The Brooklyn Rail.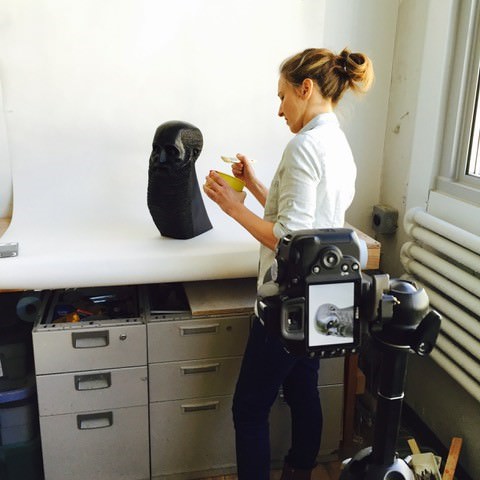 Known for her female-centered compact scenes illustrating elongated figures rendered in inflated and rounded silhouettes, Celeste Rapone's paintings celebrate a contemporary and humorous representation of the female nature. Putting a significant emphasis on the casual moments of the modern human being, the paintings focus on interior spaces and the daily events that take place during intimate time. The artist successfully destabilizes distinctions between reality and fantasy as both equally coexist on the canvas.
Referencing Chicago Imagism, Dutch Golden Age painting, Cubism, 1980's Figuration, and an Italian Catholic North Jersey upbringing while depicting 21st-century narratives, her paintings depict the paradoxical effort it takes for women to find space to do nothing. Playful and at times darkly sociological, these paintings are spectacular concatenations of light and limb, caricatures of ambition and defeat, and most of all intricate constructions of pigment and form. Her autobiographical characters are a representation of her discomfort felt at new ideas and approaches, the doubt in her own representation and object-making, and the abstract possibilities opened up and emphasized by these failures.
Celeste Rapone (b. 1985) was raised in Wayne, New Jersey. She lives and works in Chicago, IL. She received her BFA from the Rhode Island School of Design in 2007 and her MFA from The School of the Art Institute of Chicago in 2013. Her work has been shown at Roberts Projects in LA, Steven Zevitas Gallery in Boston, Julius Caesar in Chicago, The Hyde Park Art Center, and the Georgia Museum of Art, and Monya Rowe Gallery in NYC. Her work has been featured in New American Paintings, New City, The Chicago Tribune, and The Georgia Review, and she is a 2018 recipient of a Pollock-Krasner Foundation Grant. Rapone is a Lecturer in the Painting and Drawing Department at the School of the Art Institute of Chicago.